I know there are a lot of ways people prepare for Easter. Some take part in Lent - giving up
something
for that 40 day period until Easter, some read only passages related to Easter in the Bible. For em I may focus a bit more on the passages around Easter, but I do a few things...
1) Start listening to the audio drama CD of the Easter Story...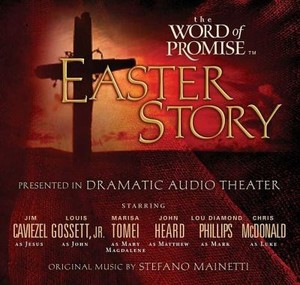 2) NEW this year... watching The Gospel of John with the family...
3) Having the kids watch Easter movies like...
The Easter Carol from Veggie Tales, The Story Keepers Easter Story, Lion of Judah...
Now that last one, I watch on a yearly basis. For me. Why? you ask... it's so brutal! How can you watch it more than once? Simple, I am a visual person, artistic minded and so on. So something I can visualize like this is huge for me. Yes it is a harsh film, but it's a yearly visual reminder for me what it took for us to be saved - Jesus being falsely accused, judged, beaten, whipped, spat on, hit with a stick over the head of the crown of thorns, and then made to drag His own cross to his death until He collapsed from exhaustion, then nailed to the cross and being separated from God the Father and the Holy Spirit for a brief moment in time as He became sin for us and died on the cross. But I love the last scene - Jesus opens His eyes, gets up, the music pounds and He marches off to victory! The movie gives me chills each time. I cry yes from the brutal nature of it - I am waiting to show it to my boys until they are ready for it... - but to me it sets the tone for Easter. This is my tradition.
One other... we do Communion as a family...
Would love to hear yours - andrew@lifeonline.fm